About us
*** Breaking News ***
Castle Emperor - the multiple Supreme Champion out of the UK will be standing at Sternbergs Stud in the future!
He just arrived here this afternoon (14 June 2020) and we are over the moon with him!
Thank you very much to Vanessa that she allowed us to purchase this wonderful pony!
Doonhill Duke new licensed Class I and is Champion Connemara at the South German Stallion !!
Sternbergs Connemara stud was founded in 1989. Since then our aim is to breed Connemaras true to type, with a strong conformation and excellent movements, very easy to handle, so they should "be able to do everything".
"Connemaras do it all"
Our ponies do prove this slogan of the Connemara breeders in their daily life. Dressage, Showjumping, Versatility, driving a wagon or trail ride horses, that are easy to handle - nothing is a problem for the versatile Connemara Pony! The Connemara has a natural jumping ability, and its rectangular build lends it suitable for dressage. They often beat horses 16 hands and over with staying power, intelligence and heart. As a show jumper, working hunter, dressage pony, eventing, western pleasure, endurance, driving - Connemaras can do it all, and - most important - can be your best friend!

Our Broodmares are mostly performance tested and they prove their outstanding characters in the daily work also with children and beginners. Our goal is to breed athletic and versatile ponies that will excel in all disciplines with all levels of riders. We carefully selected our mares (and stallions) with a strong emphasis on temperament as well as correct confirmation, true type and good movements. We breed with mares from very different bloodlines, two of our mares are descendants of our irish bred foundation mare Sue. Also we have quality mares imported from Denmark and some of wellknown german bloodlines. Allof our mares are regularly ridden and proof their riding abilities in different competitions and at the Mares Performance tests.
Elite and premium stallion El Larryis already here at our stud since 1995. The impressive dun stallion, who unites in his predigree several excellent irish bloodlines, was imported in utero from Ireland to Austria, where he also was inspected as a three years old. As a seven years old he came to us at Sternbergs Stud and already in his first foals he had with Sternbergs Siss the German National Champion foal! Many more successful foals followed in the next years…
Meanwhile, we have perfectly Fitting to our El Larry daughters another Irish stallion. Caherlistrane Con is a son of Silver Shadow, which has been successfully presented in international show jumping, and we hope that besides his jumping talent, he will continue to develop his uncomplicated character. In his first year, he was already able to shine with a colt with an Overall score of 8.4!
Additionally we have a young colt Doonhill Duke who is from some of the best bloodlines available in Ireland and his pedigree is filled with Clifden Champions and with constantly breeding dam lines.
Your future young horse should be willing to perform, but still calm and easy to handle? Then take a look at our young horses under for sale. Our Connemara weanlings are characterized by chic, correct bodies with many riding horse points, big Floating movements and of course a human-oriented and balanced character.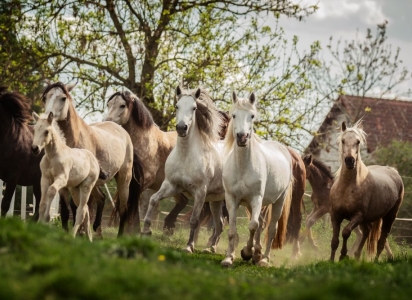 Thank you very much for the interest in our ponies! If you want to know more about them or if you would like to visit us personally, please don't hesitate to contact us!
Please enjoy our site!