Mares Inspection Sternbergs Lieke, Legally Blonde und Snow Socks - all three mares inspected in Class I and got the sought after invitation to our Landesshow!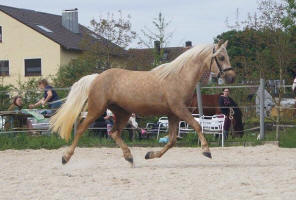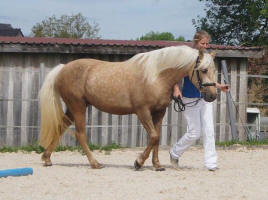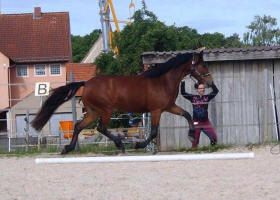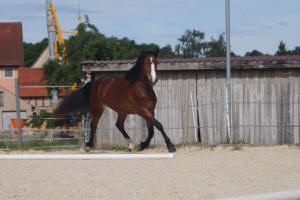 from left to right Sternbergs Legally Blonde (2), Sternbergs Lieke and Sternbergs Snow Socks

Sternbergs Like Me Classwinner at the International Connemara Stallion Show in the Netherlands
In the end of march 2017 we drove with our young Class I Stallions Sternbergs Easter Monday und Sternbergs Like Me to the Netherlands to the International Stallion Show.
Both stallions presented beautifully although we had a really long drive there. Easy was the youngest stallion at the show and was placed third in his class.
Sternbergs Like Me was Winner of the biggest Class, the Class fpr 5 and 6 years old stallions under the judges Tom Mac Lochlainn from Ireland and Joop de Jong and Yvonne Noordkamp-Peters from the Netherlands.
We were especially proud as Like Me was also the only (!!!) stallion who competed successfuly in all three classes, show, showjumping and dressage (musical fresstyle).

New Class I Stallion: Sternbergs Easter Monday
At the prestigious South German Stallion Inspection the only new licensed Class I Stallion is our 2,5 years old colt Sternbergs Easter Monday! He is sired by our outstanding Elite Stallion Skousboe Morning Rock and brings us from his motherside exciting Performance bloodlines (Monaghanstown Fred, Ashfield Bobby Sparrow), his grandmother Blackmoor Epona is a fullsister of Cuffesgrange For Sure, who is successfully starting internationally in showjumping.

Foals Inspection

2016
The Foals Inspection at our stud has again been a big success for our foals:
Very young Sternbergs Shine Bright got for her outstanding type, super body and locvelky flowing movements an Overall Score of 8,4 and was awarded the Gold Premium!
Beside her there was also a colt foal from the first foal crop of our Silver Shwdow stallion Caherlistrane Con who also had the top Score 8,4, congrats to his breeder Sebastian Greubel.
More Golden Premiums were given to Sternbergs Conan (Caherlistrane Con x Canal Leona) and Sternbergs Leoncino (ESt El Larry x Elite mare Lena).

1. Frankonian Allaround Ridden Championship
Our broodmares have once again proven their performance and rding abilities at the first Frankonian Allaround Ridden Championship. Beside a dressage test, the participating horses are judged by a riding judge, for their movements, in a hack in the group, in cross country jumping and in a trail class.
Our ponies did very well, Sternbergs Mandy placed third from the whole group while she had with a ),0 the highest grade in cros country jumping of all horses and with 8,0 one of the highest grades for the hack in the group. On the fourth place again a daughter by our stallion El Larry. On the fifth place another of our broodmares, Knockferry Snow Flake, she had the best result in the trail class with the dream score of 9,8 (from ten points possible)! Also our mare Sternbergs Lady Lee was placed in the Top Ten of this competition and besides her Sternbergs Malena and Atlantic Deep Secret were shown by their young riders and proofed that they are lovely ridden ponies. More photos of this event can be seen under: https://www.facebook.com/connemara.kraemer/media_set?set=a.10206629842370696.1073741859.1411629267&type=3&pnref=story


from left to right: Knockferry Snow Flake, Sternbergs Lady Lee, Atlantic Deep Secret, Sternbergs Malena and Sternbergs Mandy, Fotos von Lisa Kozanecki

Frankonian Foal Championship with Mares Show 30.07.2016


Sternbergs Lots of Silver
EH El Larry x Sternbergs Silver Catrina
Goldpremiumfoal with 8,1 (!!) and Winner Connemara Colts
Reserve Champion of all Sportpony Breeds - For Sale


Sternbergs Like Him
EH El Larry x ESt Maike
Goldpremiumfoal with 8,1 (!!) and 2nd place Connemara Colts
- For Sale -


Sternbergs Snow Princess
EH Skousboe Morning Rock x StPrSt Knockferry Snow Flake
Premiumfoal and Winner Connemara Fillies


Sternbergs Mia Cara
Caherlistrane Con x Sternbergs Mia Maxima
Premiumfoal und 2nd place Connemara Fillies - For Sale


Sternbergs Legally Blonde
Arda's Murphy x StPrSt Lousianna vom Donaumoos
2nd place 2 and 3 yrs old Connemara Fillies &
2nd Reserve Champion of all Sportspony Mares


Knockferry Snow Flake
Curraghmore Cashel x Morning Blossom
Winner 6 yrs and older Connemara Mares

Successful competition season for our stallions Like Me and Sam

After both our young stallion had an amazing competition season in 2015 that made it possible that both of them were in the Top Ten of the best ponies in Bavaria, they had again a super start in 2016:
Silver Sam is shown very successfully by his owner Christina Reuß in jumping and croos country and he brings home regularly rosettes, besides them a First place in Shpowjumping Class A and several wins in cross country competitions class E.
Sternbergs Like Me is also ridden by Christina and he got rosettes in Young Horse competitions Class A and in Dressage Horse Classes.
Foals 2016
Our foals are born already! We are very happy with the healthy, quality foals from the first matings.
South German Connemara Show Schillingsfürst 30. August 2015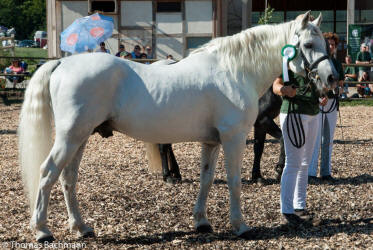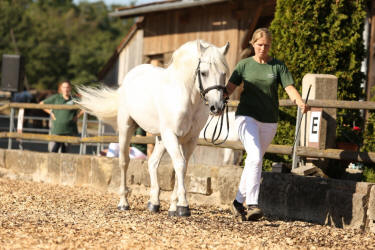 Skousboe Morning Rock
Winner 8 yrs and older Stallions
Champion Stallion
Champion family
and additionally he was wonderfully presented by our 8 yrs old daughter in the First Ridden Class - this stallion has the most outstanding tempereament I have ever known!!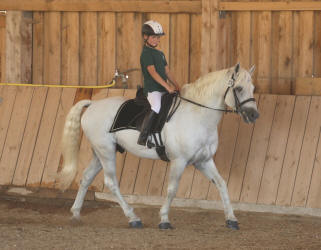 Sternbergs Like Me - Reserve Winner at the Federal Stallion Show Berlin 2015
We were already very happy that our breeding association choose our two homebred stallions to be allowed to participate at the big FN Federal Stallion Show for the best Sportponies in whole Germany.
In the days at the big fair "Gruene Woche" in Berlin our young boys learned a lot!
It was a wonderful attestation of our stud that in the showrinbg of the Connemara Stallion the first three stallions all were sired by our foundation stallions Skousboe Morning Rock and El Larry. And the youngest participant, our own Sternbergs Like Me was choosen as Reserve Winner of the Connemara Stallions!!!
Here a video from a spontaneous show act, Liky was never before ridden with a flag and most of the time I had to ride him with only one hand: https://www.youtube.com/watch?v=Y0plVrObjWQ
And this is one of the first training for Like Me in Berlin: https://www.youtube.com/watch?v=DWkE5UuQJcA&feature=youtu.be

Sternbergs Lenaro in Australia
A dream for us breeders comes true - after a long trip we can show here the first photos of a Sternbergs Stallion in his new home in Australia - Sternbergs Lenaro at Peppertree Connemara Pony Stud with the Sharne family in Australia:
Sternbergs Like Me passed Stallion Performance test
At 4th/5th november 2014 we showed our 3,5 years old stallion Sternbergs Like Me at the 2 days Performance test for Stallions. Although Liky was the youngest stallion of the whole group he passed the test (a Dressage, loose jumping, a showjumping parcours and two tests by riding judges) without any problems.
We are especially proud that he got an outstanding 8,5 from the riding judges, which was the second highest grade of the day. After Likys halfsister last year could already get the highest grade of all ponies participant for riding ability we feel really honoured for this results by outside riders which proof the talents and riding ability of our El Larry offspring!

Lena is Elite mare!
After the successful inspection of Sternbergs Lenaro our broodmare Lena receives now finally one of the most sought after and very hard to reach title in our breeding association: She is finally an Elite mare!!
this is her outstanding offspring:
Leonardo I - Class I Stallion and Winner at National Sports Pony Stallion Show
Leonardo II - Class I Stallion
Sternbergs Liara - Goldpremiumfoal and Reserve Champion mare German National Show 2014
Sternbergs Lenaro - Goldpremiumfoal and Class I Stallion at the prestigious South German Stallion Inspection
Sternbergs Laro - Goldpremiumfoal

Sternbergs Lenaro new Class I Stallion!!
At the 1st Rotating South German Autumn Stallion Inspection on 5th october in Munich we showed the young homebred colt Sternbergs Lenaro (Elite Stallion El Larry x Lena by Diamond Rum). Lenaro could convince the judges easily with his good type, his elastic movements and the super loose jumping and he was one of the youngest new licensed Stallions. Meanwhile Lenaro has left our stud and is on his long and exciting trip into his new home, Peppertree Connemara Pony Stud in Australia.
Mares Performance test for Sarina and Catrina
At 29th september 2014 we showed Sternbergs Sarina (El Larry x Sina) and Sternbergs Silver Catrina (Clifden Silver x Frederiksminde Candy) for their Mares Performance test in Meura. Certainly they passed successfully and Catrina is now even a Premium mare.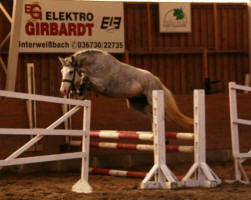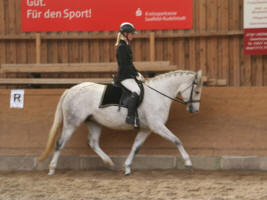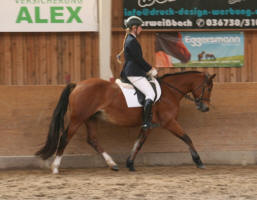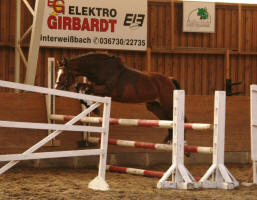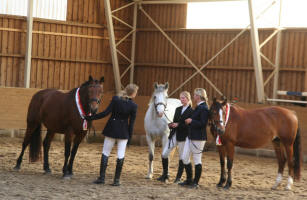 Foals Inspection 2014
All foals could convince the judges easily of their qualities and were awarded Goldpremium or Premiumfoal.
Sternbergs Marching Hero
GOLDPremiumfoal
Sire: P-B Hazy Marschall
Dam: StPrSt Sternbergs Lady Lee
Verkäuflich
Sternbergs Easter Sunday
GOLDPremiumfoal
Sire: Arda's Murphy
Dam: Sternbergs Sarina


Sternbergs Rock Forever
Premiumfoal
Sire: EH Skousboe Morning Rock
Dam: Fraya


Sternbergs Lieke
Premiumfoal
Sire: Arda's Murphy
Dam: Canal Leona

Sternbergs Lasecro
Premiumfoal
Sire: EH El Larry
Dam: Atlantic Deep Secret


Linus
Premiumfoal
Sire: EH El Larry
Dam: Ballywildrick Misty Rose
Zü. & Bes.: Bettina Trenkle - Verkäuflich

NN
Premiumfoal
Sire: EH El Larry
Dam: Palme (Welsh B)
Zü. & Bes.: Gattinger

all photos: Manfred Grebler

National Sport Pony Mares Show & German Championship for Allround Riding Horses
At the 2nd/3rd august we drove with three of our broodmares to the 2nd National Sport Pony Mares Show in Ellwangen and to the German Championship for Allround Riding Horses and we were extremely happy about the good results of our mares in between the good participants. Sternbergs Mandy (El Larry x Norlunds Mary Lou) was one of only two Federal Premium mares we have now in germany and we are extremely happy about this outstanding award!!!
Our mares proofed their versatility impressingly at the German Championship for Allround Horses in a dressage test, a test under a riding judge, a cross country jumping and a trail parcours.
Sternbergs mandy crowned the success of the weekend with the ribbon for the South German Chamion Allround Horse!!! What an outstanding success for our homebred broodmare!

German National Show in Gruenberg 2014
At the German National Connemara Pony Show on 26th and 27th july 2014 several ponies from our breeding and offspring from our stallions were again very successful
Especially the winner of the Stallion Class and later also Supreme Champion of the Show Patriks Meirliun, son of our Skousboe Morning Rock and how we think a pony who is very alike to his Sire, he could also convince with a win in the dressage class A! Congratulations to breeder an owner Ulrike Krüger!
In the big Gelding classes Sternbergs Merlino (Skousboe Moring Rock x Renate vom Donaumoos) could go on to the very top and was praised highly by the judge Moss Joyce for his convincing quality. Our congratulations go here to his owner Nicoletta Stahl!
Sternbergs Liara (El Larry x Lena) was not only winning the class for 4 years old Mares, but was also awarded Reserve Champion mare of the Show! Well done to her owner Sarah Dietrich!

Patriks Meirliun
S: Skousboe Morning Rock
Winner Stallion Classes &.
Supreme Champion Connemara National Show

Sternbergs Merlino
S: Skousboe Morning Rock
Champion Gelding


Sternbergs Liara
El Larry x Lena
Winner 4 yrs old Mares
Reserve Champion Mare National Show

Atlantic Deep Secret at her Mares Performance test
At 21st july 2014 Chrissi has shown our broodmare Atlantic Deep Secret (Royal Atlantic Star x Atlantic Peace) at the Mares Performance test in Goeppingen. The leader of the breeding association praised her for her outstanding character and told her riders that at a stations test she would have for sure got a 10 for her character. But also without this grade it was no problem for Secret to pass the test and we are happy about one more mare that has a proof for her riding ability.
Fränkisches Fohlenchampionat mit Stutenschau Gerolzhofen 19.07.2014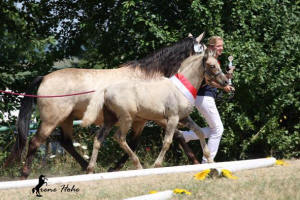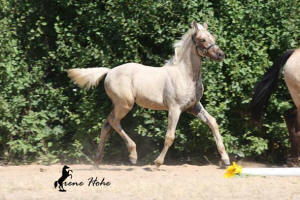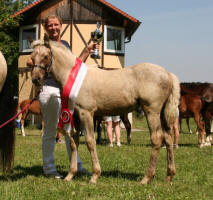 Sternbergs Legally Blonde
Arda's Murphy x Lousianna vom Donaumoos
Goldpremiumfoal with 8,3 (!!) and Classwinner Connemara Fillies
Championfoal of all Sportspony Breeds









Sternbergs Easter Monday
Skousboe Morning Rock x Shanna Lady
Premiumfoal
Winner Connemara Colt Foals

Sternbergs Lets Dance
El Larry x Silvergrove Fiona
Premiumfoal
2nd place Connemara Colt Foals

NN
El Larry x Mady (v. Diamant)
Goldpremiumfoal
2nd place Connemara Fillies

Sternbergs Mia Maxima
Arda's Murphy x Sternbergs Mandy
Classwinner 2 and 3 yrs old Connemara Fillies
2nd Reserve Champion mare of all Sportspony Breeds

Sternbergs Mandy
El Larry x Norlunds Mary Lou
Classwinner 7 years and older Connemara mares
Champion mare of all Sportspony Breeds
MISS FRANKEN - Supreme Championesse

Foals 201

4


Our foal crop 2014 is complete now and we are really happy with the top quality of our foals again!
We have a very interesting bred colt foal by Elite stallion El Larry, two very convincing colts by Elite stallion Skousboe Morning Rock out of proven matings and a very charming colt by PB Hazy Marschall.
Arda's Murphy has delivered us something very special with his trio of beautiful fillies, between them a stunning palomino filly foal out of Lousianna vom Donaumoos, that was already sold at the very young age of two days to our friends, the Newton family in Australia.

Snowfly is Elite mare
We are proud to announce that after Moccachino's inspection in Class I at the International Stallion Show in Holland his dam Sternbergs Snowfly is eligible to carry the Elite mare title!!!!
In our breeding association this is

very hard to achieve, Sternbergs Snowfly has points from her two Class I sons, Sternbergs Larry JR in Denmark and Sternbergs Moccachino in the Netherlands and from several Premium and Gold Premium foals. Snowfly is homebred out of our foundation mare Sue (by Sarsfield) and by the stallion Skatholm Ladykiller.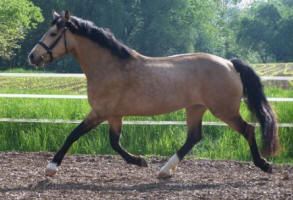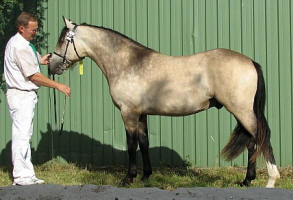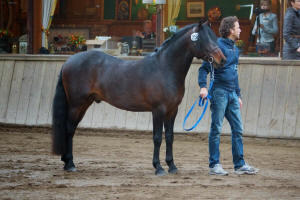 Sternbergs Snowfly, her daughter Premium mare Sternbergs Salut and her Class I sons Larry Jr and Moccachino

International Connemara Stallion Show Heeze/Holland 2014
With our young stallions Sternbergs Like Me (EH El Larry x Maike) and Sternbergs Silver Sam (Clifden Silver x Maike) we made the long journey (500 kilometers) to the International Stallion Show in Heeze in the Netherlands and the show was worth every mile of it!
One stallion from our breeding was shown there together with two other colts for inspection and he was the only one to get licensed in Class I under the international judges Joop de Jong and Jos van der Wal from the Netherlands, Tom Mac Lochlainn from Ireland and Nina Gustafson from Sweden. Sternbergs Moccachino is from the first foal crop of Arda's Murphy in Sweden and out of our homebred States Premium mare Sternbergs Snowfly.
All three stallions bred by us competed in the first class for 3 to 5 years old stallions. Moccachino could win this class, Like Me as the youngest participant was placed second and Silver Sam followed on the fourth place. We were very happy with the good results for our boys!


Sternbergs Moccachino


Sternbergs Like Me

Sternbergs Like Me new licensed stallion
At 20th october we showed our young stallion Sternbergs Like Me (El Larry x Maike by Diamant) at the Bavarian Pony Stallion Inspection in München and again he had no problems to convince the judges. Especially he was praised for his super body and topline, his good type and his good movements. We are very proud on our young stallion.
Performance test in Ansbach 10./11. Sept. 2013

Sternbergs Silver Sam
First Connemara Stallion to pass the new Two days-Performance test!
Winner of the Performance test for Riding Pony Stallions in Ansbach 2013
8,0 for Loose jumping, 9,0 (!!) for Showjumping

Sternbergs Mandy
Best Connemara Mare in Ansbach 2013


Sternbergs Malena
Passed performance test in Ansbach 2013

South German Connemara Show in Schillingsfürst 01.09.2013